"Light shines through the darkness for the upright; He is gracious and merciful and just."  Psalm 112:1-6
by Adele M. Gill  |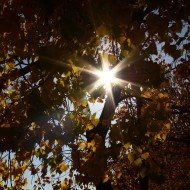 www.theinspirationcafeblog.net
Part of the human condition is to experience challenging times, sometimes even difficult times, of darkness. During these times, there may be temptation to give up and move into despair. Yet, today's holy Scripture clearly tells us that there is "Light through the darkness for the upright." That is, there is Light shining through the darkness for those who seek God and follow His commandments. For we as Christians who place our trust in Jesus, the Savior of the World, this is, indeed, very, very good news, as darkness melts away into recognition, hunger and thirst for God's grace.
Certainly we all know the pain of disappointment, failure, abandonment, losing a loved one, or what it feels like to have a health setback in our lives. We all know the pain that is experienced when life becomes unpredictable and things seem to go awry, instead of according to by the plans we have set forth. Yet, today's Scripture encourages us to take heart and hold on… For we as Christians, it is important to understand well that the Lord has us covered. Covered in His love, covered in his plan, covered in his gracious Divine Mercy, covered in his saving precious blood that He shed on the cross for you and for me, and our loved ones.
When we try our best, hard as it may be, to place our trust in Jesus, the door to any situation is opened so that streams of His life-giving light can flow into our circumstances, dispelling darkness in every form including sadness, anxiety, anger and hatred, loneliness, and loss. It is then that we are open to accept God's great and blessed gifts of His companionship, healing, reconciliation and forgiveness.
When we are able to walk through dark periods in our life and trust and believe that God is kind and merciful and ever present to us, we are actually able to embrace the gifts He has generously waiting for us. At that moment in time, by the grace of God, darkness loses its sting, and we are transported to a place of unsurpassed peace and joy in Him, able to celebrate His eternal saving power.
Adele M. Gill  |  2015 Copyright  |  The Inspiration Café Blog