Adele M. Gill
https://theinspirationcafeblog.net/3-easy-steps-to-grow-in-gratitude/
For me, I find that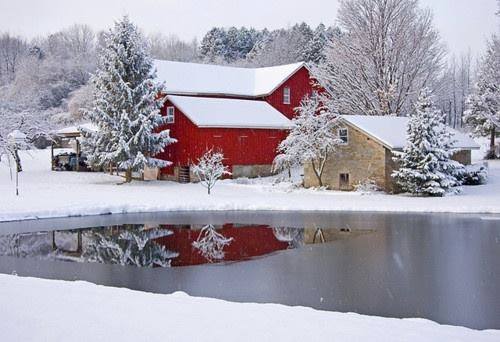 growing in gratitude involves the excitement that comes in the quiet knowing that God is in control and that "all is well" in my own life because of Him, despite any unwelcome adversity or uncomfortable, unforeseen circumstances.
I have a friend who tells me she gets pretty sentimental each New Year's Eve. Like so many people, looking back over the year – and looking ahead at the upcoming year – she has a blend of both nostalgia and anticipation. Nostalgia for all the good times, successes and memories of the past year, and anticipation of good things to come in the New Year. I am so glad she put it into words for me, as that is very close to how I feel on New Year's Eve each year as well, beginning on Christmas Eve. I find that reminiscing is a really good way to briefly look over what was and to look forward to what is to come with child-like excitement.
In my own holiday experience, I find that I am in awe of what God is doing in my life on a daily basis; and in that vein, I often try to take a few minutes to reaffirm in my heart and mind, through prayer, that Jesus Christ is, indeed, at the very the center of my life. Because the pressing truth is, as Christians, all that what are, all that we can do, and all that we have is truly a gift from God.
"Be still, and know that I am God;
I will be exalted among the nations, I will be exalted in the earth."
Psalm 46:10
In order to acknowledge and revere God as we enter the New Year, there are 3 important things to consider as we grow in gratitude this year:
We are imperfect human beings serving a loving, forgiving God.
God holds the key to our peace and joy.
Daily prayer and reading Holy Scripture keep us close to God in thought, word and deed, more able to discern and help follow His Divine Will in our lives.
In order to realize this discovery each year, I try to dedicate some treasured holiday time to prayerful gratitude to our Almighty, Omnipotent God. After all, the Christmas/New Year season is a wonderful time to reestablish bonds of faith and turn back to God with all your heart. Let's face it: life happens. Sometimes it gets in the way of our expressing gratitude to God for all our many blessings and sometimes we are more faith-filled than other times. I find this practice places me on good footing, higher ground than before — to start the New Year afresh as I move into a blessed state of gratitude illuminated by peace and joy.
This chaotic world tells us that the latest technology, travel, or the finest clothes are the source of happiness, yet we all have gone down those avenues and many have realized that happiness can be an elusive butterfly as the more we get, the more we want material things.
In essence, it is a dead end road. This idea of taking some time to "Be still with God" and to realign with Him is surely not new, but it is necessary if we are to sustain peace and joy in our daily lives. When we make God the center of our lives once more, we are freer to live happy lives while growing in gratitude; more able to love others, "even those we don't love as we should," with complete abandon. And to think it all starts with being still and recognizing yet again, that God is our Creator, All-powerful, Ever-loving, Lord of the Universe!
"Be still, and know that I am God;
I will be exalted among the nations, I will be exalted in the earth." Psalm 46:10
Copyright 2016   |   Distributed by News Consortium.
—