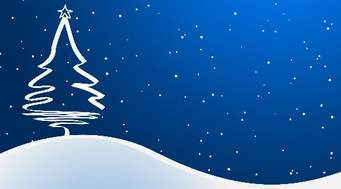 I don't know about you, but I love the Christmas season! I especially revel in the light-heartedness found in our culture during this time of year. The timeless music, the Christmas cards, the bright lights, and the manger scenes; the hustle and bustle created by people on a mission to find the right gift, and all of the many efforts to create memories in through baking, decorating and entertaining family and friends. But there is more to it…
Sometimes I need to step away from all the holiday trappings and remember that more than anything, this is actually the season of Advent. For some, Advent is a best-kept secret as it occurs in the middle of all the holiday revelry. Spiritually, Advent is a time of great preparation, anticipation, peace, rejoicing, and comradery. It is an exciting time of looking for the good all around us, and reaching out to others in new ways. It is, in a sense, an awakening, a time when we strive to be a little kinder, gentler, more generous, more aware of others, and even more patient with those around us. During Advent, we are grateful that Jesus is with us, and for all that He has done for us, as our Lord and Savior. It is a time to count our blessings, and look ahead for His eventual second coming with confidence.
There is a familiar song that has been out for several years called "Mary Did You Know." In this song, as in its title, the question is posed as to whether Mary knew her baby boy would rule all nations. How different this world would be had Mary not said "Yes." Did Mary fully understand that Jesus would be the Lord and Savior of humanity? I suspect that perhaps, had she known the full gravity of her impending motherhood, she may have been even more overwhelmed, even possibly lost her courage to follow God's plan for her life. But as Scripture suggests in the Magnificat, Mary instinctively rejoiced at being chosen to be Jesus' mother. She was young; a virgin, and not yet married to Joseph, and delivered Jesus in a stable, but the Bible tells us Mary was joyous all the same, as she forged ahead against all odds:
"My soul glorifies the Lord and my spirit rejoices in God my Savior, for he has been mindful of the humble state of his servant. From now on all generations will call me blessed, for the Mighty One has done great things for me—holy is his name."  Luke 1:46-49
Surely Mary prayed without ceasing through her pregnancy and throughout her most unusual, unparalleled, blessed life. For the Bible also tells us she expressed great gratitude to God for her most unusual, unprecedented privilege to be Jesus' mother!
Mary, who was Jesus' first disciple, is a wonderful role model for all of us as she is the mother of the Savior of the world. Her willingness to say "Yes" to God's plan for an unplanned pregnancy like no other, and, the way she stood by Jesus even in His final hours, speaks volumes to her love for Jesus, and her faith-filled steadfastness. Surely Mary must have had times when fear, confusion, and anxiety crept in, yet she stayed true to her mission as the mother of Jesus Christ, regardless of the cost. Surely it was her strong faith, prayer and God's grace that allowed her to do the job she had been given with such love, fortitude, gentleness and dedication, which is why, to this day, she remains a beacon of light, a ray of hope for all of humanity, a role model for us all.
"Brothers and sisters: Rejoice always. Pray without ceasing. In all circumstances give thanks,
for this is the will of God for you in Christ Jesus."  I Thessalonians 5: 16-24
© Copyright   |   Adele M. Gill
https://theinspirationcafeblog.net/Christmas-against-all-odds/