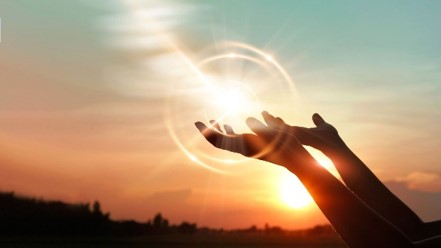 By Adele M. Gill   |   Silver Lining Ministries
[Please be sure and click on the title of this blog post to read full article.]
Great Anticipation. Our loving God has so many life-giving attributes, but one He is most well-known for is being 'The Great Communicator.' Unceasingly trying to reach us, especially when we are fully undeserving.
God attempts to communicate with all of us in various ways. Some find God when they are in Church; others experience Him through nature. Some see God in the faces of those who are suffering. Yet others seek Him only when they are hurting or in turmoil, with nowhere else to look for help but up. Oftentimes, we experience God when we are alone in the middle of the night, away from worldly distractions. Other times we find Him while praying with others. We all hear and see God's presence in different ways. Yet we need to recognize His finest work in our lives, give credit where due, and share His glory with others. It is so important to pray and to share with others what God is doing in your life any way you can, in ways great and small, so that they, too, may live in hope, knowing God's unconditional love for them.
"What I say to you in the darkness, speak in the light; what you hear whispered, proclaim on the housetops."
Matthew 10:27
Yes–we all have our own ways of seeking God out and sharing Him with others. He will dependably meet us wherever we are ,when we do. Could it be that we need to humble ourselves, pray and ask for God's help, even if for the first time ever?
Some people say that they feel like prayer is nothing more than a monologue, vacantly spoken into the air to a distant, disinterested deity. But that couldn't be further from the truth. In fact, prayer is actually a dialogue with your Creator. God is aware of, interested in, and engaged in, every aspect of your daily life. Why not humbly invite Him into your life today? Though He will never intrude, He is an ever-present God; one who will respond to your every prayer as only He can.
So what sort of prayer gets God's attention? The answer is every prayer!
'The Great Communicator answers our prayers–always in life-giving ways. We need to pray and ask Him for whatever we need with confidence, and great anticipation, then watch and see what He does next on your behalf! Then we need to celebrate all He does for us, and share it with others. Could it be that God depends on us, in part, to spread The Word–the Gospel– to lead souls to Him?
[Jesus said] "Go into the whole world and proclaim the Gospel…"
Mark 16:15  [New American Bible Revised Edition]
_______________________________________________
© Copyright 2021   |   Adele M. Gill
~About the Author ~
Adele M. Gill is a retired RN/BSN, and a certified Chaplain. She is a recipient of the 2021 Firebird Book Award for her new scripture-based self-help book, 'How to Go from Broken to Blest.' This AWARD WINNING BOOK is written for anyone who is struggling with any thing, in any way, and is now available at Amazon.com: https://amzn.to/2ZWsiCb