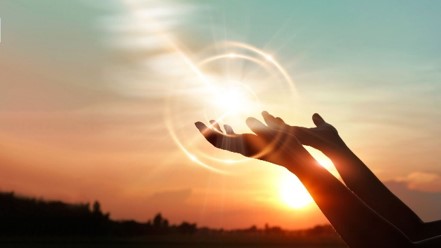 [Please click on the blog article title to read full article]
by Adele M. Gill   |   Silver Lining Ministries
True story: About a week ago, a dear friend of mine, Anne, was going into a convenience store. As she walked toward the front door, she passed by a man who appeared a little disheveled and somewhat anxious. Normally, she would have continued walking, but for some reason, this day was different. Very different. She was feeling what she later described as a 'nudge,' a 'gut feeling,' that he was in great need. Wanting to help him, she walked over to him and said "Hello." She then asked him if he was ok, and if she could help him in some way. Opening up to her, he told her that he and his wife were homeless. He was very upset because they had just been turned away from a local hotel due to not having enough money to pay for a room there. He also said he had just that day been released from jail.
As Anne listened to his story, she reached into her purse and went to give him some money. Though she had never prayed with a total stranger before, she paused, then asked him—even surprising herself–if he would like her to pray with him. Even for a well-experienced, believing Christians, that would be a quite a challenge. However, she was stepping out of her comfort zone with what I call, holy boldness. Anne had just recently started reading the Bible, and as of late, had been having a great awakening of her own faith, and for her, it just seemed like the right thing to do.
"Would you like me to pray 'the 'Our Father' prayer with you?" she asked. "Yes," the homeless man and his wife both replied promptly, and without hesitation. So they did. "Dear God, You have said whenever 2 or more are gathered in Your name, You are in their midst…Our Father…" Then Anne finished the prayer by asking God to provide for all their needs. While the 3 prayed they saw a stranger pull up right next to them in a Lexus.  Just as they were finishing the prayer, the man in the car rolled down the window and said: "I have something for you…" to the homeless man, as he handed him $200!
Coincidence? Absolutely not! You just never know when or how God will answer your prayers! As they all witnessed that day, God's timing is always perfect. Through the power of the Holy Spirit, God, can and will, use anyone to accomplish His work, and His favor rests upon His faithful children. Clearly, prayer has the potential to change any plight, any situation, for the better; we simply need to pray and invite God into every circumstance! No eloquent speech or elaborate prayers are necessary. Just the desire to invite God in to every circumstance!
As written in the Book of Genesis, all of us were created equal by God–we are all God's children. But like anyone else, God chooses His heirs, with whom His favor rests. Though it is only by God's grace we are saved, the Bible tells us that God's heirs are those who seek Him, believe in Him, and strive to serve Him in both word and deed, through Our Lord Jesus Christ. I think that Anne's praying with that couple is, indeed, a wonderful example of how God helps us in the most practical ways when we turn to Him through prayer. And it is a tremendous witness to the power of prayer. We really do serve a merciful God of surprises!
"Blessed are the poor in spirit, for theirs is the kingdom of heaven…
Blessed are the merciful, for they will be shown mercy."  Matthew 5:3-7
"The [Holy] Spirit himself testifies with our spirit that we are God's children. 17 Now if we are children, then we are heirs—heirs of God and co-heirs with Christ, if indeed we share in his sufferings in order that we may also share in his glory."  Romans 8:16-17
"For those who are led by the Spirit of God are the children of God." Romans 8:14
 "The only Father we have is God himself."  John 8:41
"This is how we know who the children of God are and who the children of the devil are: Anyone who does not do what is right is not God's child, nor is anyone who does not love their brother and sister."  I John 3:10
"See what great love the Father has lavished on us, that we should be called children of God! And that is what we are! The reason the world does not know us is that it did not know him."  I John 3:1
© Copyright 2021   |   Adele M. Gill
~ About the Author ~
Adele M. Gill is a retired RN/BSN, and a certified Chaplain. She is the recipient of the 2021 Firebird Book Award for her new scripture-based self-help book, 'How to Go from Broken to Blest.' This AWARD WINNING BOOK is written for anyone who is struggling in any way, and is now available at Amazon.com: https://amzn.to/2ZWsiCb